Bravo Company MFG.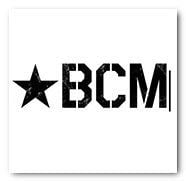 As of my last update in September 2021, Bravo Company Manufacturing (BCM) is a firearms manufacturing company known for producing high-quality firearms and firearm accessories. They are based in Hartland, Wisconsin, and have earned a strong reputation in the industry for their reliable and durable products.
BCM was founded by Paul Buffoni, a former Marine Corps veteran, with the goal of providing firearms and accessories that meet the stringent demands of military, law enforcement, and civilian shooters alike. The company focuses on producing components and rifles designed for the AR-15 and AR-10 platforms.
One of the key features that set BCM apart is their commitment to using top-notch materials and manufacturing processes. They emphasize quality control and rigorous testing to ensure that their products meet the highest standards. As a result, BCM firearms and accessories have gained popularity among shooters who prioritize reliability and performance.
BCM offers a range of products, including complete AR-15 and AR-10 rifles, upper receivers, lower receivers, handguards, grips, stocks, and other accessories. They cater to various shooting applications, from tactical and home defense to competitive shooting and hunting.
Please note that the firearms industry is subject to constant changes, and new developments may have occurred since my last update. For the latest information about Bravo Company Manufacturing, I recommend checking their official website or other reliable sources for up-to-date details.
No products were found matching your selection.