Gun Payment Plan: 90 Days Interest Free Firearm & Sporting Goods Financing Available
Get Approved For Payments!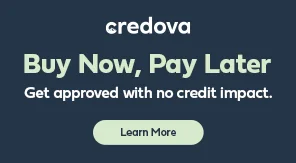 Financing your next firearm and accessory purchase is easy. Why pay for the full purchase upfront when you can have smaller monthly payments? Better yet, get approved with no credit impact. You're never locked in full term with the ability to buyout anytime, payoff your principle in 90 days to pay no interest, and you can even build your credit with on-time monthly payments.
---
How Gun Financing Works:
---
Select the items that you would like to purchase and add them to the cart.
Select Pay with Credova (make payments) as your payment option.
Fill out the form that pops up to apply for credit.
Once approved your items will ship to you as normal.
Features
APPROVALS IN SECONDS

Apply online 24/7 for financing approvals in seconds. Applications can be filled out from any device with an internet connection. If you have any questions about the application, call (832) 520-2512 to reach support.

PAY OVER TIME

Credova puts the purchasing power in your hands with monthly payments instead of paying for the entire purchase upfront.

BUILD YOUR CREDIT

Using a financing option on Credova can help build positive credit history by making on-time monthly payments.

90 DAYS INTEREST FREE

Payoff your principle in 90 days and you pay no interest. You can also spread your payments out up to 36 months.

GET APPROVED WITH NO CREDIT IMPACT

There are no hard credit inquiries so you can get approved with no impact to your credit.

CUSTOMER SUPPORT

Credova has dedicated support available for any questions or assistance you may need during normal business hours of 6AM to 6PM PST.
---
FAQ
How easy is it to apply?

Very easy. Online applications only require basic information and you can receive an approval in seconds.

How much will I be approved for?

Depending on your application details, you can be approved for $300 to $5,000.

If I have bad credit, will I be declined?

Even if you have bad credit, that's ok. Credova considers all credit types in the approval process and some financing providers accept bad credit, it entirely depends up on the financing provider. Keep in mind, there is no hard credit inquiry, so applying won't affect your credit.

What information do I need to apply?

Open/Active checking or savings account
US government issue photo ID
Email address
Social security number
Income/employment information
Phone number and address

What type of financing is offered?

Credova is partnered with a network of financing options that offer retail installment sales contracts (RISCs) through Budsgunshop.com.

How does 90 days no interest financing work?

It's simple. Pay off your principal within the 90-day promotional period and you pay no interest. Keep in mind, you've got to make your regular monthly payments on time because if you miss a payment or are late, you no longer qualify for the promotion.

What is the interest rate?

Your interest rate will vary based on your application information. Your interest rate and term length will be fully disclosed in your offer(s) so please review carefully prior to completing your agreement.

Am I locked into my financing contract for the full term?

Not at all. You can payoff your balance anytime. If you payoff your principal in the 90-day promotional period, you are eligible for interest free financing. You are able to payoff your balance any time after the promotional period, however, you will be subject to paying interest up until that buyout point.

How often are payments made?

Payments are made on a monthly basis.

When will my purchase be shipped to me?

Please keep in mind, any firearm purchase being shipped must be sent to your local FFL dealer for pickup rather than your home address. For shipping timing and tracking, please review the retailers policies.

How much do I have to pay today?

If you use a financing offer through Credova, you will not be required to pay anything today. Your first payment will be roughly 30 days from the time of purchase.

Can I finance a firearm if I am out of state?

Depending on the retailers policy, yes, you can finance a firearm out of state. Certain restrictions may apply.