Nemo Arms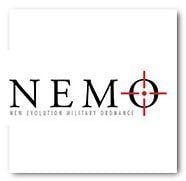 Nemo Arms is an American firearms manufacturer based in Kalispell, Montana. The company was founded in 2012 and has gained a reputation for producing high-quality, precision firearms and accessories.
Nemo Arms specializes in manufacturing AR-style rifles and other firearms designed for long-range shooting and precision applications. They are known for their innovative designs, attention to detail, and the use of high-quality materials and components.
One of their most notable products is the Nemo Arms Omen rifle, which is a semi-automatic, gas-operated AR-style rifle designed for long-range shooting and tactical applications. The Omen rifle is available in various calibers, including .300 Win Mag, .338 Lapua Magnum, and others, making it suitable for long-range shooting and hunting purposes.
Nemo Arms rifles often feature precision-machined components, match-grade barrels, and high-quality triggers, contributing to their accuracy and performance. They pay close attention to fit and finish, resulting in firearms that are not only functional but also aesthetically appealing.
In addition to rifles, Nemo Arms also produces AR-style pistol caliber carbines (PCCs), such as the Nemo Arms Battle-Light PCC, and various firearm accessories.
Nemo Arms caters to both civilian and professional shooters, including competitive shooters, law enforcement, and military personnel who demand accuracy and reliability from their firearms.
Showing 1–6 of 36 results
Showing 1–6 of 36 results